DRYLOK® Latex Concrete Floor Paint vs. DRYLOK® E1 1-Part Epoxy Floor Paint…
Although they're both scientifically formulated as all-in-one, interior/exterior solutions for horizontal surfaces, there are key differences:
A. Finish
DRYLOK® Latex Concrete Floor Paint lays down a low-sheen, matte finish, while DRYLOK® E1 1-Part Epoxy delivers a gorgeous, showroom-quality, semi-gloss finish.
B. Dry time before you can drive on it
Typically, DRYLOK® Latex Concrete Floor Paint is ready for traffic in 5 days and DRYLOK® E1 1-Part Epoxy cures in 5-7 days, depending on humidity and application conditions.
C. Price
In addition to being a bit more budget-friendly than DRYLOK® E1 1-Part Epoxy Floor Paint, DRYLOK® Latex Concrete Floor Paint offers greater coverage per gallon (500-600 sq. ft. per gallon vs. Epoxy's 300-400 sq. ft. per gallon).

D. Durability
DRYLOK® Latex Concrete Floor Paint outperforms ordinary floor paint when subjected to traffic, washings, weather, acids, and alkalis. DRYLOK® E1 1-Part Epoxy Floor Paint utilizes an Advanced Epoxy Ester Resin fortified formulation to deliver superior protection and durability, withstands high traffic, and resists hot tire pick-up, chemicals, oil, grease, and gasoline stains.
E. Coverage on previously treated surfaces
DRYLOK® Latex Concrete Floor Paint and DRYLOK® E1 1-Part Epoxy Floor Paint can be applied over previously painted surfaces. However, please do not apply Epoxy over a surface previously treated with a 2-Part Epoxy.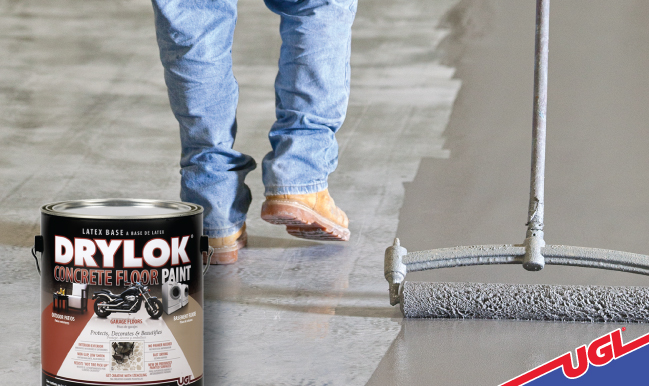 Improve Safety with a Non-Slip Surface
If your concrete steps, walkways, garage floors, laundry rooms, patios, ramps, or basements are subjected to regular foot traffic, use DRYLOK® Latex Concrete Floor Paint for a non-slip finish. For an even greater sense of security, mix in DRYLOK® Non-Skid Texture Additive to further increase traction and help prevent accidents and injuries. Be advised, when added to DRYLOK® E1 1-Part Epoxy Floor Paint, the light-scattering effect of DRYLOK® Non-Skid Texture Additive's natural pumice particles will make the finish appear less glossy. Plus, even after you add the texture, the dry times and cure times of both products will remain the same.

Looking for a "Greener" DIY Solution?
Choose DRYLOK® Latex Concrete Floor Paint. To earn the Green Wise® label, this product was independently tested and certified by the Coatings Research Group, Inc. It meets environmentally determined performance standards established by CRGI's ISO-accredited facility for specific product types, and meets or exceeds LEED® VOC requirements for most applications. DRYLOK® Latex Concrete Floor Paint is completely free of certain chemicals deemed harmful to human health or our environment. This environmentally responsible floor coating complies with all current VOC requirements and, since it's formulated using a pH level similar to concrete, won't blister, lift, wrinkle, peel, or discolor like other floor paints.
Cleaning and Dry Time is Crucial to your Success
Before applying a floor coating, clean the concrete thoroughly and make sure it's free of dirt, dust, grease, oil, soap, wax, concrete curing membranes, and that oily film sometimes left behind by sweeping compounds. Remove any stains using DRYLOK® Concrete Cleaner & Degreaser. Rinse thoroughly with clean water and allow to dry completely. If you're using a pressure washer, keep the setting below 1750 psi to avoid damaging the concrete. Remember, concrete acts like a "stone sponge". Pressure washing, and cleaning in general, can trap residual moisture in the concrete. To check for trapped moisture, tape a 12"x12" piece of 3 mil plastic or aluminum foil tightly on all four edges to the surface. Remove it after 24 hours. If the floor side of the plastic or foil is damp, wait a while and repeat the test. A dehumidifier or fan can help speed the process. View complete preparation and application instructions at DRYLOK® Latex Concrete Floor Paint and DRYLOK® E1 1-Part Epoxy Floor Paint.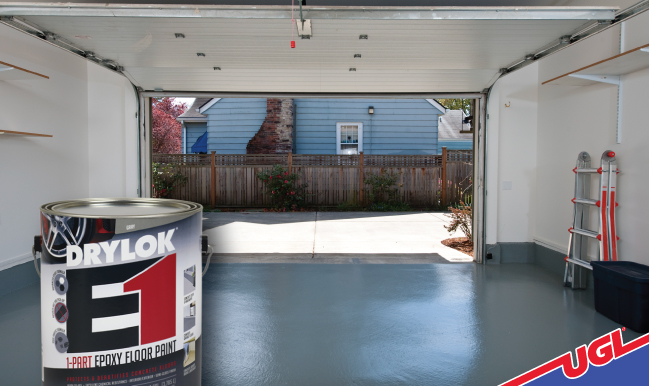 Save Time and Effort with our Pre-Mixed, All-in-One Epoxy
DRYLOK® E1 1-Part Epoxy Floor Paint is ready to go, right out of the can. No mixing. No waiting. No rush. To use many other epoxies, you have to handle two different parts, combine them, stir them , and allow the mixture to set in the can for 30 minutes. Then, you have to use it within 2 to 2-1/2 hours after mixing. After that, it goes in the garbage and you get to start all over and make a new batch (ugh). Choose DRYLOK® E1 1-Part Epoxy Floor Paint and complete your project at your pace, on your schedule. Stop when you need to, reseal the can, and get back to it when time allows. Since you get to actually use the entire can, you'll get the full value of what you paid for! Plus, since it's formulated to be completely free of strong, toxic odors, you can apply it indoors, any time of the year, without worrying about nasty paint fumes.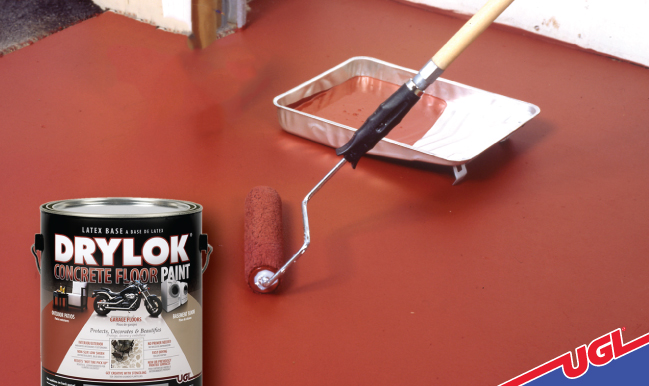 Use Color to Beautify your Floors
Ready to elevate basic concrete to another level? By color-coordinating floor colors with walls, furnishings, and other decor, you can make a statement that's uniquely yours. DRYLOK® E1 1-Part Epoxy Floor Paint comes in 2 ready-mixed colors (Platinum and Gray), and 12 tints (Arctic White, Chestnut, Dark Gray, Harvest Brown, Natural Sand, Sage, Sky Blue, Stone Blue, Terra Cotta, Platinum, and Gray). DRYLOK® Latex Concrete Floor Paint comes in 9 ready-mixed colors (White, Gull, Dover Gray, Soft Gray, Persian Red, Bamboo Beige, Terra Cotta, and Georgetown Gray), and 4 tints (Caramel, Deep Charcoal, Platinum, and Spruce). Flood the floor with two coats of a single color for a dramatic, monochrome finish, or, for added dimension, consider combining two complementary colors. Simply lay down the first color in one direction, then paint the second color in the opposite direction. If you need more than one can of paint for a single coat, be sure to mix the cans together for uniform color.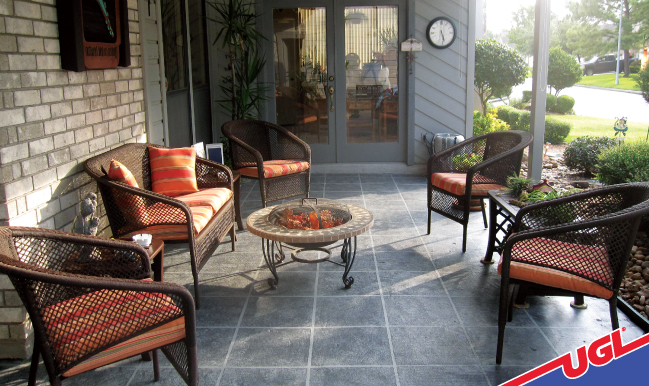 Transform Plain Concrete into Stunning Faux Tiles
Stuck with a boring concrete floor? With DRYLOK® Latex Concrete Floor Paint, painter's tape, and a little creativity, you can create amazing borders, stripes, squares, diamonds, and even the appearance of faux tiles. Measure your project area and then sketch out your ideas on paper, or in your favorite computer program. Once you have a clear vision, and you've properly prepared the concrete surface, you can start measuring, marking off, and taping sections of the floor. If you use a paintbrush on some sections and a roller on others, the contrast between the finishes will add more visual interest to your project. Planning to use different paint colors? Consider buying varied tape colors as a "quick reference" to help you put the right colors in the right sections. Since you can get painter's tape in different widths, think about alternating "thicks" and "thins" to add extra detail. For a custom twist, try using decorative edge scissors or a hole punch along the length of the tape.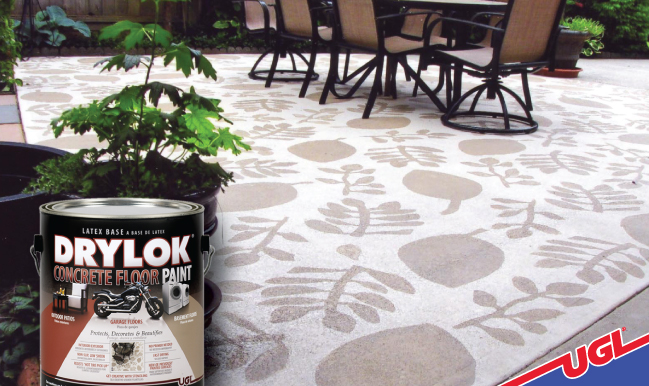 Add Personality with Stencils or Pattern Paint Rollers
Paint stencils come in all shapes and sizes, and can be found in home improvement stores, as well as craft and hobby retailers. Use them to add a pattern to an entire floor or create a simple, decorative border. "Frame" your floor with dark trim around the edge to throw the lighter interior into sharp relief, or combine stripes of complementary patterns for a truly individual look. If you lay the stencil down directly on prepared concrete, you can apply paint with a brush or a roller, and let the unfinished surface show through. Or, paint the entire floor and then use stencils to add a second color on top. Ever use a pattern paint roller? This specialty tool imprints designs right into the paint. Rollers are available in virtually unlimited options including floral and leaf patterns, faux brush strokes, wood grain textures, bamboo, and a myriad of illustrations including animals, seashells, and sunbursts.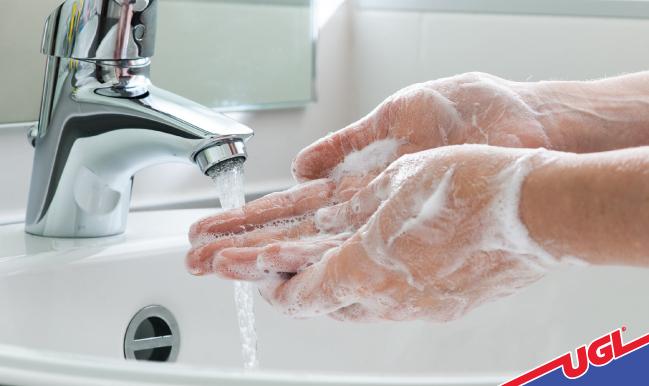 Clean up with Soap and Water
You know how it usually works. You get paint or epoxy on your skin (or on areas you didn't intend to paint), and then you're stuck using toxic chemicals to get it off. Not anymore. Both DRYLOK® Latex Concrete Floor Paint and DRYLOK® E1 1-Part Epoxy Floor Paint clean up quickly and easily with regular soap and water. No more paint thinner. No more acetone. No more alcohol. And, most importantly, no more worries!