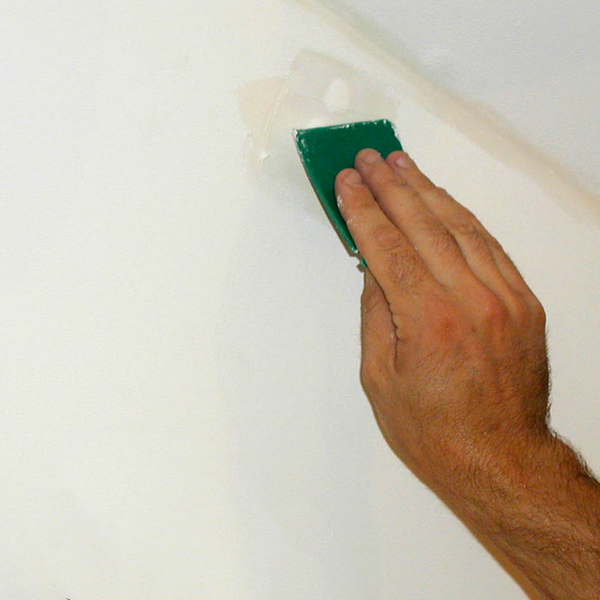 Quick Overview
Product Features:
Ideal for patching cracked plaster, filling nail holes, repairing wall tile and more
White
May be painted
Latex base
Sizes: half pint, pint, quart, gallon
Coverage: 56 cubic inches per quart
Set time: 2 hours
Surfaces
Plaster
Nail holes
Wall tile
Drywall
Unprimed wood
Preparation
Remove all loose dirt, paint, wax, grease, and dust.* All metal, including nail heads, should be primed with a metal primer. Both UGL® 222 Lite Spackling Paste and the surface temperature of the area to be patched must be above 50°F.
All exterior applications must be painted.
Application
Stir and apply UGL® 222 Lite Spackling Paste with a putty knife. Push the product firmly into the hole or crack, smoothing the material with long strokes of the putty knife. For an extra-smooth finish, lightly smooth the patched area with a wet putty knife.
UGL® 222 Lite Spackling Paste can be painted almost immediately with latex paint. Before applying an oil-based paint, allow the material to dry thoroughly. For best results, prime any patched areas. Allow these areas to dry thoroughly before sanding.
USAGE STATEMENT: Prior to use, carefully read the product label and follow the directions. For technical information, warnings, cautions, notices, and additional information, download and read the documentation available on this website.
California Residents: Prop 65 WARNING(S)
* WARNING: If you scrape, sand or remove old paint, you may release lead dust. LEAD IS TOXIC. EXPOSURE TO LEAD DUST CAN CAUSE SERIOUS ILLNESS, SUCH AS BRAIN DAMAGE, ESPECIALLY IN CHILDREN. PREGNANT WOMEN SHOULD ALSO AVOID EXPOSURE. Wear a NIOSH-approved respirator to control lead exposure. Clean up carefully with a HEPA vacuum and a wet mop. Before you start, find out how to protect yourself and your family by contacting the National Lead Information Hotline at 1-800-424-LEAD or visit www.epa.gov/lead.