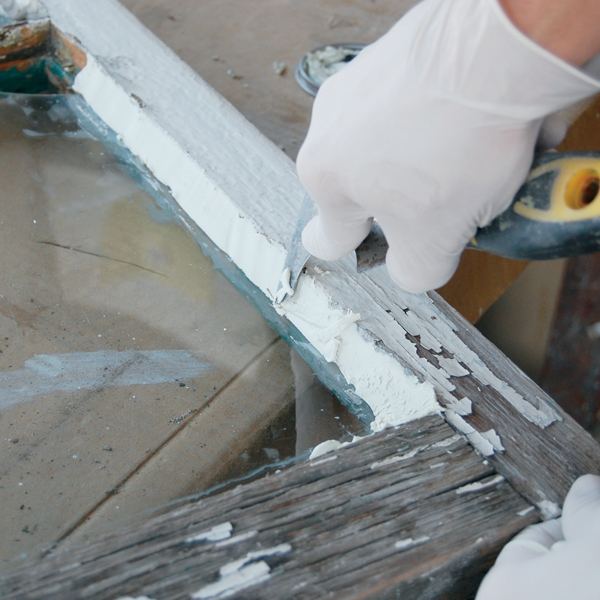 Quick Overview
Product Features:
Interior/exterior
White
Meets ARCOM's Master Spec® Section 080314 Historic Treatment of Wood Doors, 08035123 Historic Treatment of Steel Windows, and 080352 Historic Treatment of Wood Windows
Oil-based putty
Sizes: half pint, pint, quart, gallon
Coverage: 56 cubic inches per quart
Set time: 25 minutes - 1 hour (when used under latex paint, allow GLAZOL® to cure for several days before painting; before painting with oil paint, allow GLAZOL® to dry overnight)
Preparation
Remove old putty and make sure the surface is clean and dry.* Air and surface temperature should be above 40°F. For best results, window frames should be primed with a good oil-based primer. If desired, for bedding glass, you may soften UGL® Glazol® Glazing Compound slightly using a small amount of mineral spirits. When installing glass in the frame, secure it with glaziers points or clips.
Application
UGL® Glazol® Glazing Compound is ready to use. Roll it in your hands to warm and soften the material. Apply it with a putty knife, placing the flat side of blade against the material, not at the bottom edge. Press UGL® Glazol® Glazing Compound onto the sash, filling the height and width of the L-shaped recess completely. Smooth it to an angle that sheds rain. For best results, UGL® Glazol® Glazing Compound should be painted after it is applied. When used under latex paint, allow the product to cure for several days before painting. Before painting with an oil-based paint, allow it to dry overnight.
Disposal
Dispose of contaminated absorbent, container and unused contents in accordance with local, state and federal regulations.
USAGE STATEMENT: Prior to use, carefully read the product label and follow the directions. For technical information, warnings, cautions, notices, and additional information, download and read the documentation available on this website.
California Residents: Prop 65 WARNING(S)
* WARNING: If you scrape, sand or remove old paint, you may release lead dust. LEAD IS TOXIC. EXPOSURE TO LEAD DUST CAN CAUSE SERIOUS ILLNESS, SUCH AS BRAIN DAMAGE, ESPECIALLY IN CHILDREN. PREGNANT WOMEN SHOULD ALSO AVOID EXPOSURE. Wear a NIOSH-approved respirator to control lead exposure. Clean up carefully with a HEPA vacuum and a wet mop. Before you start, find out how to protect yourself and your family by contacting the National Lead Information Hotline at 1-800-424-LEAD or visit www.epa.gov/lead.