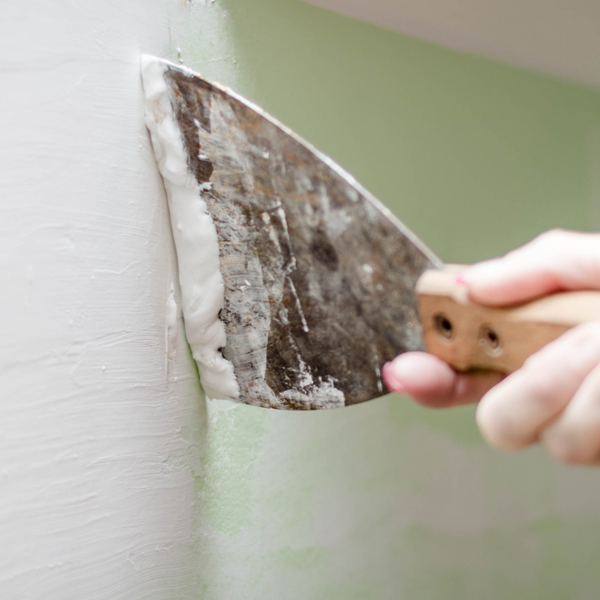 Quick Overview
Product Features:
Use indoors to level floors, set casting patterns, and repair wood, plaster, and masonry
White
A powder that mixes with water
Sizes: 4 pound, 25 pound
Coverage: 80 cubic inches / 4 pounds
Set Time: 1 hour
Surfaces
Tile
Stone
Concrete
Ceramic
Preparation
The surface must be clean. Remove all dirt, grease, and foreign matter* from the area where UGL® Mar-Gon Floor Leveler and Crack Filler is to be applied. For best adhesion, dampen the area to be repaired with water. For best results on wood, prime it first.
Mixing
In a clean receptacle, mix approximately 3 parts UGL® Mar-Gon Floor Leveler and Crack Filler to 1 part water. Stir quickly until a stiff, even paste is formed. For depressions in floors deeper than .25 inches, mix 2 parts clean sand and 1 part floor leveler with water to create a stiff, even paste.
Application
As a Floor Leveler
After applying and spreading UGL® Mar-Gon Floor Leveler and Crack Filler, smooth it with a wet trowel. Reinforcing wire should be used when leveling large areas of wooden floors.
As a Repair Compound
Press UGL® Mar-Gon Floor Leveler and Crack Filler tightly into place with a trowel or putty knife and smooth the surface as desired. Allow the patch to set completely before using sandpaper or steel wool.
When fully cured (1 to 3 days after application, depending upon temperature and humidity), UGL® Mar-Gon Floor Leveler and Crack Filler may be finished with any quality acrylic latex paint. When it is desirable to use an adhesive, it is recommended that a water-based, acrylic latex adhesive be used.
Disposal
Dispose of contaminated absorbent, container and unused contents in accordance with local, state and federal regulations.
USAGE STATEMENT: Prior to use, carefully read the product label and follow the directions. For technical information, warnings, cautions, notices, and additional information, download and read the documentation available on this website.
California Residents: Prop 65 WARNING(S)
* WARNING: If you scrape, sand or remove old paint, you may release lead dust. LEAD IS TOXIC. EXPOSURE TO LEAD DUST CAN CAUSE SERIOUS ILLNESS, SUCH AS BRAIN DAMAGE, ESPECIALLY IN CHILDREN. PREGNANT WOMEN SHOULD ALSO AVOID EXPOSURE. Wear a NIOSH-approved respirator to control lead exposure. Clean up carefully with a HEPA vacuum and a wet mop. Before you start, find out how to protect yourself and your family by contacting the National Lead Information Hotline at 1-800-424-LEAD or visit www.epa.gov/lead.