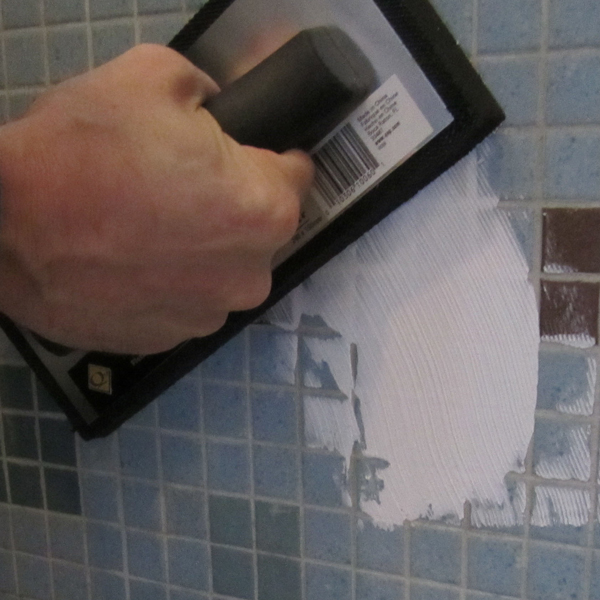 Quick Overview
Product Features:
Ideal for grouting tile, resetting ceramic fixtures, and sealing seams between floors and walls
Repair and restore tile to its original beauty
Water resistant
White
A powder that mixes with water
Sizes: 4 pound
Coverage: on ceramic tile, 12-15 square feet per pound – on mosaic tile, 4-6 square feet per pound
Set time: 12 hours, may be exposed to water after 24 hour
Surfaces
Tile
Stone
Concrete
Ceramic
Preparation
Clean the surface, removing any soap film by wiping it with denatured alcohol. Remove mildew with a bleach and water solution.
New Work
Mastic adhesive must be fully cured. The surface must be clean and firm.
Old Work
Remove all old and loose grout*. Clean the surface thoroughly and replace any damaged tile.
Mixing
Mix UGL® Powdered Tile Grout, at a ratio of 2.5 cups to 1 cup clean water, in a clean container. Slowly add water, stirring constantly until it forms a heavy, creamy consistency. Do not mix more than can be used in 45 minutes.
Application
Dampen the entire surface using a clean, wet sponge to ensure that UGL® Powdered Tile Grout cures properly. To avoid skin irritation, wear rubber gloves. Force the grout into the crack or joint with a plaster putty knife. Smooth the area while it's damp, allowing 30 minutes for the grout to harden. Remove any excess grout by wiping the surface with a clean, damp cloth or sponge. Allow the product to cure for 12 hours. Polish the tile with a clean, dry cloth. Clean your tools with water immediately after use.
USAGE STATEMENT: Prior to use, carefully read the product label and follow the directions. For technical information, warnings, cautions, notices, and additional information, download and read the documentation available on this website.
* WARNING: If you scrape, sand or remove old paint, you may release lead dust. LEAD IS TOXIC. EXPOSURE TO LEAD DUST CAN CAUSE SERIOUS ILLNESS, SUCH AS BRAIN DAMAGE, ESPECIALLY IN CHILDREN. PREGNANT WOMEN SHOULD ALSO AVOID EXPOSURE. Wear a NIOSH-approved respirator to control lead exposure. Clean up carefully with a HEPA vacuum and a wet mop. Before you start, find out how to protect yourself and your family by contacting the National Lead Information Hotline at 1-800-424-LEAD or visit www.epa.gov/lead.