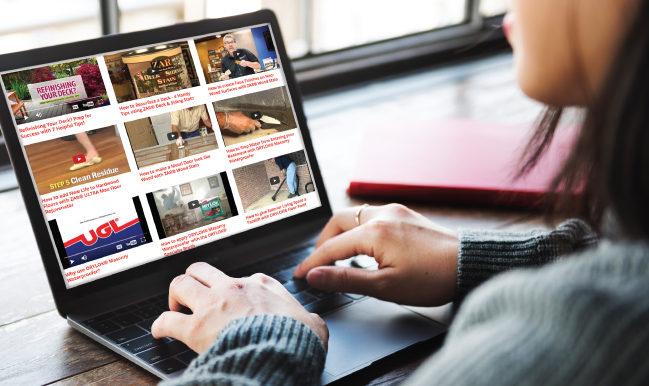 1. You can watch instructional videos on the new How To page.
Check out United Gilsonite Laboratories' growing library of do-it-yourself videos. Before you tackle a home improvement project, it's often helpful to get tips and techniques from savvy homeowners and experienced pros. Properly matching products to your specific needs, following correct preparation and application procedures, and learning how to avoid common mistakes can go a long way toward making your project come out beautifully, on budget and on time. As we will upload new videos on a regular basis, feel free to check back often!
2. You can get inspired by finished projects on the new Inspiration page.
Got a project in mind? Need inspiration? Ready to build, decorate, renovate or repair? Looking for an idea for that one room you've been meaning to renovate? Thinking about using contrasting stain colors to add drama to a floor or pizzazz to furniture? Ready to upgrade your laundry room? Is it finally time to turn all that wasted basement space into useable living areas? Ever thought about using DRYLOK® on your foundation to color-coordinate with the siding? In time, you'll be able to view all sorts of fabulous, successful DIY projects. Once you've been able to define and refine your vision, check out our How To videos for helpful tips.
3. You can learn cool stuff, share ideas, and meet like-minded folks in our social communities.
Since you can easily access our social platforms from the new website, hop on over to Facebook, Instagram, Twitter or Pinterest and connect with other do-it-yourselfers from across the country and around the world. The growing UGL community is always on the lookout for inspiration and DIY hacks! We invite you to join us: post photos, upload DIY videos, review products, exchange info, offer advice, and share success stories using #drylok, #zarstain and #ugl.
4. You can get helpful home improvement tips on our Blog.
Right here, right now, we're making you a promise. From now on, this Blog will be regularly updated with content designed to help you be even more successful in improving your home and property. Learn how to prep a deck prior to refinishing or how to beautify and protect your deck with stain. UGL's industry experts plan to address many popular topics: how to waterproof a basement, how to make repairs around the house, how products with ultraviolet radiation absorbers can help protect outdoor furniture from sun damage, how to pick the right poly for refinishing a wood floor, how to epoxy coat a garage floor and add value to your home, how to easily repair cracks in your driveway, how to create faux wood grain on a door, how to seal concrete, how to clean soot off a fireplace, and so much more.
5. You can access detailed product info quickly and easily.
These days, everybody's busy. Improved navigation will get you to the info you need, quickly and easily. You can Shop by Surface, Shop by Project, or Shop by Product. We've packed as much as we can into each product page so you can find everything you need in the same place. View features, benefits, sizes, recommended application tools, and dry times. Browse swatches for both ready-mixed colors and tint options. Instructions are included on how to properly prepare the surface and apply each product for best results. Download pdfs of Brochures, Product Data Sheets, SDS Sheets, and Warranty Certificates. And, don't forget, all UGL products are proudly made right here in America.
6. You can find a store near you or see who carries our brands.
Use the new Store Locator to search by zip code for brick and mortar locations near you. Listings include a street address, telephone number and, in many cases, a link to a website where you may be able to shop online. Currently, our primary regional/​national retailers include: Home Depot, Lowes, Ace Hardware, True Value, Do it Best, Blain's Farm & Fleet, Bomgaars, Busy Beaver, Cole's Hardware, Curtis Lumber, Dunn-Edwards Paints, Farm King, Farrell-Calhoun Paint, Global Equipment Company, L&M Fleet Supply, Mills Fleet Farm, Rockler Woodworking and Hardware, Rural King Supply, Sutherland Lumber Company, and Valu Home Centers.
7. You can more easily identify environmentally-friendly solutions.
In addition to working with Green Standard Certification Firms, like Coatings Research Group, Inc., UGL has created its own Green Products Standards that meet or exceed current regulations. Examples: exceeding VOC requirements, featuring a low odor formulation, and cleaning up easily with water. These products are identified on the website by a ​"Standard of Excellence" icon. As of April 28, 2017, the following products meet UGL Green Products Standards and have earned the highly respected Green Wise® Certification: DRYLOK® Extreme Masonry Waterproofer, UGL® EcoLok® Primer Sealer, DRYLOK® Latex Concrete Floor Paint, ZAR® ULTRA Max Wood Stain, ZAR® Clear Wood Sealer & Natural Toner Base.
And coming soon…
We are currently putting the finishing touches on one more new feature, a comprehensive site search tool you can use to instantly find anything you need.