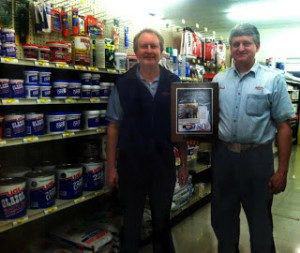 2012 marks the 80th Anniversary of United Gilsonite Laboratories (UGL), makers of DRYLOK®, ZAR® and UGL® brand products. Shrewsbury True Value, in Shrewsbury, PA has been identified as a key player and a top performer for UGL's Maintenance and Repair line of products.
As a thank you, UGL acknowledged Shrewsbury True Value with a party and plaque presentation. Shrewsbury was only one of 10 dealers chosen from the company's over 4,000 dealers, taking into consideration product sales, customer service, and product displays.
Shrewsbury True Value will also be included in the UGL's Trade Advertising Campaign with ads featuring their employees and a testimonial explaining why their maintenance and repair program is so successful.
PICTURED – Scott and Brad Hittie, owners of Shrewsbury True Value, accept their Top Performer Recognition plaque from UGL.